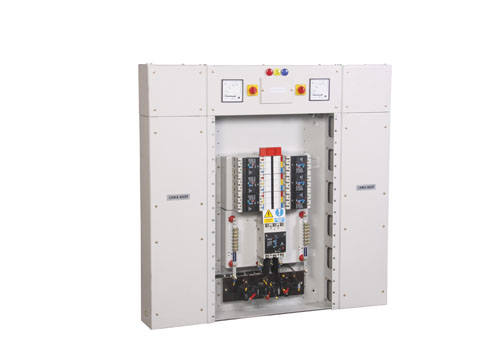 "Loadbank Panel Board System" is a power distribution board with MCCBs as incoming and outgoing switching-cum-protective devices, for distribution of power to various loads as per the requirements of the system.The modular construction of load bank renders the customary panel building redundant by virtue of compactness, reduced cost and short delivery time coupled with reliability of the various modular units. All units are fabricated using sheet steel of 1.6mm and are epoxy powder coated to give a superior finish.
Range :
Two basic versions :
•    'G' frame panel boards upto 400A
•    'A' frame panel boards upto 800A.
Specification :
•    Fully application oriented as per
•    IS:13947-I&II and IEC:60947-I&II
•    IS:8623 and IEC60439
•    IS:2147 and IEC:60529.
Features:
•    Ready made & customised solutions for load management
•    Designed for floor mounting / wall mounting
•    Specially designed shrounded busbar provides safety
•    No. of ways option permits future system expansion
•    Easy add on modules to house various devices offers simplicity & flexibility
•    Elegant & sleek in appearance.
•    Modular construction & compact size provides economy of space, time &       cost.
Empty tab. Edit page to add content here.