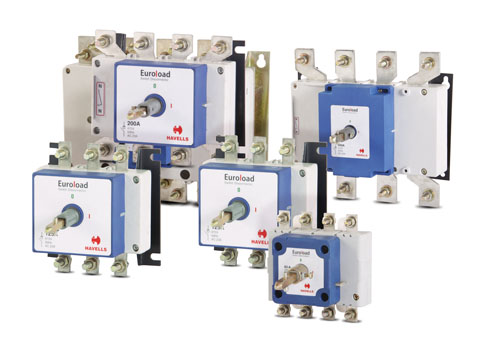 "Euroload Changeover Switches" find a wide application scope wherever the reliability of electrical supply from the utilities is low and are used in lighting/motor circuits wherever continuity of supply is necessary, for switching to an alternative source from main supply and vice versa. They are switch disconnectors with independent manual operation capable of making, carrying and breaking currents under normal circuit conditions which may include operating overload conditions and also carrying currents under specified abnormal circuit conditions such as those of short circuit for a specified time. These switches are modular in construction, compact in size and suitable for stringent utilization category AC-23A.
Range :
40A to 3150A in 7 frame sizes in 4 Pole.
Specification :
IS / IEC 60947-1 & 3.
Features:
•    Quick make & quick break mechanism.
•    High electrical & mechanical endurance.
•    Advance neutral.
•    Enclosed housing to avoid dust ingress.
•    Staggered terminals upto 800A.
•    Load and Line reversibility.
•    Provision of phase separators, add-on auxiliary switch
•    Door interlock and padlock facility.
•    Extended outgoing terminals.
•    Available in open execution & in sheet steel enclosure.