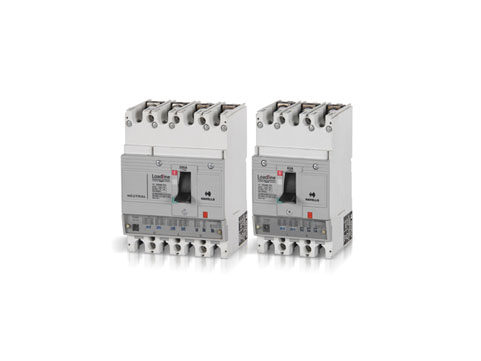 Load Line range of "Moulded Case Circuit Breakers" are designed and manufactured to world-class  standards. Loadline series MCCBs provide overload and short-circuit protection for all applications. The thermal & magnetic elements, adjustable over a wide band, make these MCCBs ideal for any distribution application.
Range :
16A to 1600A in 5 frame sizes in single pole, three pole and four pole with switched neutral execution.
Specification :
Conforms to IEC : 60947-1&2 / IS:13947-1&2.
Features:
•    Wide range : 16A to 1600A (AC)
•    Compact dimensions
•    Adjustable thermal setting (70-100%) In.
•    Adjustable magnetic setting (5-10 times / 4-10 times) In.
•    Suitable for use as switch disconnector
•    In 4PwSN version, neutral makes first and breaks last
•    Push to trip button provision
•    Uniform front escutcheon plate
•    Positive dolly position indication
•    Suitable for DC application upto 1600A
•    Separate main and arcing contacts
•    Wide range of accessories