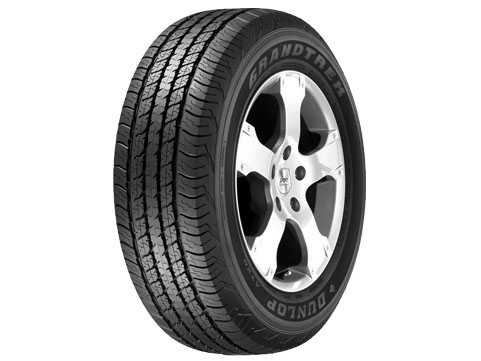 The Grandtrek AT20 is Dunlop's Highway All-Season light truck tire that was developed for the drivers of pickups and sport utility vehicles. The Grandtrek AT20 was designed to deliver low noise, a comfortable ride, and year-round traction, even in light snow.
The numerous Grandtrek AT20 sizes developed for the aftermarket are branded with UTQG Ratings of 500 A B and have been designed to provide a balance of traits appropriate for today's lavish pickups and luxury sport utility vehicles, while the few Original Equipment Grandtrek AT20 tires developed several years ago are branded with UTQG Ratings of 300 B B and appear to place emphasis on low rolling resistance to increase the vehicle's fuel economy above poor weather traction and treadwear.
On the outside, the aftermarket tires feature Dunlop's advanced all-season compound molded into a tread design that combines independent intermediate and shoulder blocks with a continuous center rib to enhance dry traction and treadwear. Then crosscut sipes, wide circumferential grooves and deep lateral grooves provide the biting edges needed to enhance poor weather traction. On the inside, twin steel belts stabilize the tread while a Dimensionally Stable Polyester cord body and bead design promote ride comfort, handling and treadwear.
ll Other Sizes for this Tire
SIZE
UTQG
MAX.
LOAD
Max. Inflation Pressure
Tread Depth
Tire Weight
Rim Width Range
Meas. Rim Width
Sect. Width
Tread Width
Overall Diam.
Revs. Per Mile
Country of
Origin*
P215/70R15
97S SL
300 B B
1,620 lbs.
51 psi
11/32″
23 lbs.
5.5-7″
6.5″
8.7″
NA
26.9″
774
US
P245/75R16
109S SL
300 B B
2,271 lbs.
51 psi
12/32″
32 lbs.
6.5-8″
7″
9.8″
7.2″
30.5″
683
US
P265/65R17
110S SL
300 B B
2,337 lbs.
51 psi
11/32″
36 lbs.
7-9.5″
8″
10.7″
8″
30.6″
681
US
P265/70R17
113S SL
300 B B
2,535 lbs.
51 psi
11/32″
39 lbs.
7-9″
7.5″
10.6″
8″
31.7″
657
JP
225/60R18
99H SL
300 B A
1,709 lbs.
51 psi
10/32″
28 lbs.
6-8″
6.5″
9″
28.6″
731
JP
225/60R18
99H SL
300 B A
1,709 lbs.
51 psi
10/32″
28 lbs.
6-8″
6.5″
9″
6.5″
28.6″
731
JP,US
Notes
Specifications shown are as accurate as possible based on the information provided to us by the tire manufacturers. The dimensions reflect average values for tires measured on the specified measuring rim width. Individual tires may vary from data shown.
All tires are subject to continuous development. The tire manufacturers and Tire Rack reserve the right to change product specifications at any time without notice or obligation.
*Although regularly updated, the country of origin for any tire may vary from the country shown here. Unfortunately, we cannot accommodate requests for tires with a specific country of origin.